Rabbi Paris Returns to Ethiopia After 60 Years
by Rabbi Hailu Paris and Monica Wiggan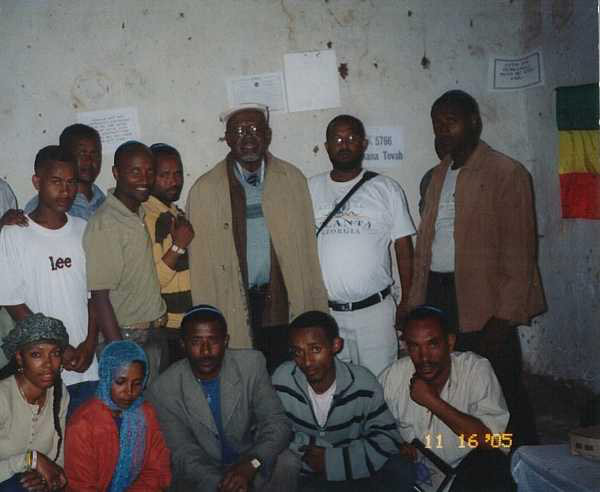 [Rabbi Hailu Paris is an Ethiopian-born rabbi of the Israelite Community. He is a graduate of Yeshiva University, teaches Talmud and Ethiopian History in the Israelite Rabbinical Academy, was the spiritual leader of Mt. Horeb E.H. Congregation in the Bronx, New York, and is a member of the International Israelite Board of Rabbis.]
Our trip to Addis Ababa, Ethiopia started on November 9th, 2005. We arrived on November 10th with the help of The Almighty safely. We checked in at the Hilton Hotel and immediately went to our rooms to get ready for the evening meal. On Friday morning, we attended the conference with a number of Christian ministers who were gathered together by Center of World Missions and the African-American Church. The purpose of this conference is to review the unique relationship that Judaism and Christianity has played in Ethiopian History.
At the conference (held at the Hilton Hotel) we viewed slides of maps that outlined the area that the Bible speaks of. The slides showed ample evidence of the influence of the Bible upon its development. There were ancient temples before Christianity; i.e., the ruins of the castle of the Queen of Sheba in Axum, the stalae of Axum, and Temple of Yeha.
At the Institute of Ethiopian Studies, the group was met and welcomed by Professor Richard Pankhurst. Using the Palaeontological finding of ancient skulls and bones he made the claim that Ethiopia could be the cradle of civilization. It is certainly from this area of the world that humankind finds the foreparents of all humans. The Axumites developed a language called Ge'ez written with a form of ancient alphabet called Sabean. The ancient Torah of Ethiopia was written in Ge'ez. The Ethiopian clergy still pray in this language. This Torah, called Orit, are found in book form with pictures of the prophets and sages that look like Africans.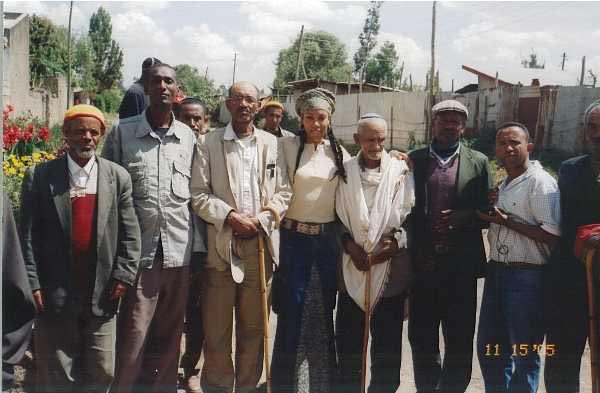 On Shabbat, Monica went with Daniel Workneh, an Ethiopian Jew who was introduced to us by Professor Ephraim Isaac, to see the Adenite synagogue in Addis Ababa. There are still a few Adenite Jews living in Addis Ababa, but not enough for a minyan on Shabbat, so their synagogue is closed for services. However, the synagogue is open on special occasions and on the Holy Days. Aden Yemen, right on the Red Sea and across from Ethiopia. About 80 years ago, the location of the synagogue was full and flourishing with Jews from Aden.
On Sunday morning, Monica and I, along with Minister Richard Honeywell, went to visit the Beta Israel community at their camp in Addis Ababa. We found there are some 16,000 to 20,000 who are now called Falash Mura, descendants of Ethiopian Jews who converted to the country's dominant Orthodox Christian religion a century ago.
With the rebirth of the State of Israel, they desired to return to the Jewish faith. Many of the community that reached Addis Ababa for the Operation Solomon airlift to Israel were left behind. Since 1991, they have tried to get the Israeli government to bring them to Israel in order to be unified with their families. They were left without any resources by the main organization who was helping them since the 1980s.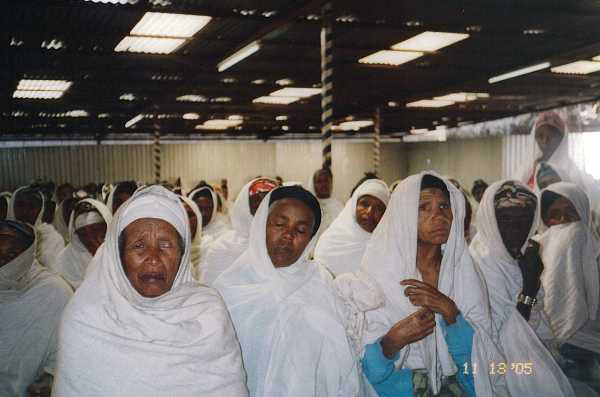 The training programs run by the North American Conference on Ethiopian Jewry (NACOEJ), which comprised of Hebrew classes, mikvah, computer training, lunch program and grain distribution are no longer available and the classrooms were emptied of classroom material. The material to make Tallism and pray shawls were not available to the community after NACOEJ left. We were told after NACOEJ left the community found aid in receiving medical care from the American Jewish Joint Distribution Committee. We heard them express fear over the prospect of not receiving approval to settle in Israel.
A two day mission that brought some 100 Jewish leaders from Israel and the Diaspora for a first hand look at the living conditions of the Falash Mura, caused the New York based United Jewish Communities to launch Operation Promise, a $100 million initiative of the UJC in cooperation with the Jewish Federations of North America, the Immigrant Absorption Ministry, and the Jewish Agency of Israel to bring them to Israel as soon as possible.
On Tuesday evening, we went to visit another community who call themselves Beit Avraham. The following letter was written by their spiritual leader, Mesfin Assefa, and best describes this community in his own words (his English is a little broken):
Shalom,
We are the lost tribes of Israel, black Jewish (Beit Avraham) living in North Shewa parts and Kechene Village in Addis Ababa, Ethiopia. We were born with and grow up with suffering, persecution, and discrimination. In the past hundred years our families have suffered discrimination and death because they are Jewish. Our ancestors led their lives with handcraft works such as blacksmithing, weaving and pottery, but other peoples count us as animals. They called us Buda (possessors of the evil eye or hyene eyes). But we are the children of God, the tribes of Judah, the descendents of Abraham, Isaac and Jacob (Israel). Our families practice Judaism...in secret in the forest, cave and remote desert parts of North Shewa because we are hiding ourselves to keep our generation safe from persecution and death and to continue the offspring of God's peoples. Our identity will be lost and unknown by the world Jewish community.
To emancipate our communities from suffering, persecution and discrimination and to walk together with our brothers in the world, we the young Jews have established the "Ethiopian North Shewa Zionist Organization" officially to practice Judaism, to study Hebrew and history, to improve our living standard, to help each other, and to fulfill our Zionism dream with the help of God of Israel (HaShem).
But now, we have no sufficient capacity and resources to accomplish our mission or objective. So we request your organization to give us advice, information and material support related to our mission objectives and we want to announce our Jewish community (Beit Avraham) in your website and newsletters. Please hear our voices in the world Jewish community!
We are looking forward to your attention and support.
Sincerely yours,
Ethiopian North Shewa Zionist Organization
P.O. Box 26495
Addis Ababa
ETHIOPIA
Te;: 011-251-0911-662-057
E-mail: ethiozionst@yahoo.com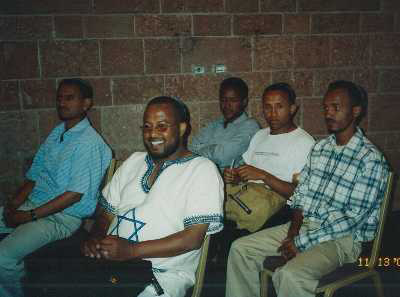 © 2002-2007. Legal Notice. Use of photographs, audio, or text from this site is strictly forbidden without written permission. No links or references may be made to this site or our organization that does not promote peace and understanding among all people. If referring to information on this site, keep all quotes in context and provide proper attribution to its source.