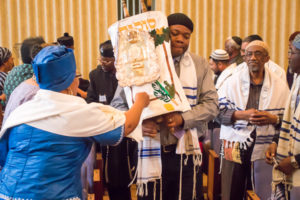 Ethiopian Leader Tells Israelites "We are Brothers"
On October 29, 2017, Mr. Simcha Kebede, a leading representative of the Ethiopian Cultural Center in Israel, addressed an audience of Israelites at the Crystal Lights Banquet Hall in Chicago, Illinois. The occasion marked the ninety-ninth anniversary of Beth Shalom Bnai Zaken Ethiopian Hebrew Congregation, which is led by Chief Rabbi Capers Funnye, Jr. Mr. Kebede and representatives of other Black Jewish communities from Ethiopia, Uganda, Nigeria, and South Africa attended the inauguration of Chief Rabbi Funnye two years earlier in New York City. At that time these leaders pledged to continue building bridges of cooperation that began in 1931 when the first international representative of the Beta Israel, Taamrat Emmanuel (1888-1963) met our first Chief Rabbi W.A. Matthew (1892-1973) at Commandment Keepers Ethiopian Hebrew Congregation in Harlem. Since that time, Jews of African descent all over the world have asserted their ancestral connection to the Biblical Israelites and they have faced similar challenges and obstacles.
This particular celebration began Friday evening with a dinner and service at Beth Shalom to welcome the Sabbath. Rabbi Baruch Yehudah, the spiritual leader of Bnai Adath Kol Beth Yisrael in Brooklyn, New York, delivered a fiery sermon that recounted the trials and tribulations of our forebears across time and space. During the morning service the beautiful sanctuary was filled with a spirit of love and unity as delegations arrived from various parts of the country. Rabbi Sholomo Levy, the spiritual leader of Beth Elohim in Queens, New York, began the Torah reading for Lekh Lekha. The Beth Shalom choir enthralled the congregations with a mini-concert of inspirational songs selected from both the traditional Jewish liturgy and  from African American spirituals. Rabbi Debra Bowen, the spiritual leader of Temple Beth El,  led a large contingent from Philadelphia. Rabbi Bowen was also the keynote speaker; her eloquent and informative lecture explored the theme of the weekend, which was "The Journey is Within."
During the Kiddush meal, Chief Rabbi Funnye explained to Mr. Kebede that prior to the 1970s the words "Ethiopian Hebrew" was contained in the titles of most Israelite synagogues in the United States.  When Mr. Kebede asked why many of our congregations dropped the word Ethiopian, the Chief Rabbi said, "They did not want people to think we were misrepresenting ourselves as Jews who were born in Ethiopia. We merely wished to acknowledge that we trace our ancestry back to the oldest Jewish community in Africa and from there back to ancient Israel."  Mr. Kebede said emphatically, "You are our brothers. We acknowledge our connection and shared history. Black Jews in America and those now living in Israel must never abandon their Ethiopian heritage even as they embrace the changing realities of the present." Others around the table responded by saying "European Jews are never asked to give up their European or American identities. All of us together comprise the Jewish people. We are the modern tribes of Israel."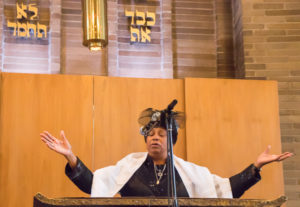 In the afternoon, Elder Moshe Buie taught a class in the small sanctuary of the synagogue which is adjacent to the classroom where courses of the Israelite Academy are held. As a scholar and sage of this community, Elder Moshe used a variety of charts, maps, and newspaper articles to weave together elements of our history with current events.  In this manner, we were able to see how Biblical prophecy was being fulfilled in our lifetimes. Mr. Kebede was impressed by the eclectic nature of our services; i.e., how we move seamlessly from preaching to teaching, from inspiration to education, throughout the day.
At the banquet, everyone was dressed in their finest attire. There was elegant music and a local comedian,  James Ford, evoked laughter with his humorous stories and jokes. The mood became suddenly serious when Mr. Kebde ascended the stage and began to tell his heart-wrenching story. He described in vivid detail how he was persecuted in Ethiopia and arrested by Ethiopian authorities in 1980 during his first failed attempt to walk to Israel. At this point the audience was spellbound as he described being questioned about his Jewish identity and then tortured and sometimes starved. Once he made it to Israel, Mr. Kebede became a leader of the Ethiopian Cultural Center. Today, this organization is chaired by his brother, Uri Kebede. They work closely with the Kessim (Ethiopian Priests) and civil leaders on behalf of the Ethiopian Jews in Israel and they continue to fight for the reunification of thousands of Ethiopian family members who are still trapped in Ethiopia because of bureaucratic and religious wrangling. Mr. Kebede was unusually candid about the criticism he and other Ethiopian Jews receive from some Jewish quarters for speaking out. He told us that many of them are strongly discouraged by their Jewish patrons from having any contact with other Black Jews of African descent. Despite these subtle and overt threats, Mr. Kebede said, "We must stick together. We must help each other. Together we can defeat the racism that we all experience."
Before Mr. Kebede flew back to Los Angeles where he owns a construction company, he made gifts of handmade kippot made by Ethiopians. Once again, he pledged the undying support of the Ethiopian people and promised that they will send a delegation to New York in 2019 when much of the international Israelite community celebrates the 100th anniversary of the founding of our first synagogues.
Slideshow