The link at the end of this message contains our calendar for the year 5778. The Israelite Board of Rabbis  provide this as a free service to our community. It is the only calendar that follows the Torah readings in Israel, where holy days are not typically observed for two days. For many Israelites, it is very important that we not alter God's word by adding days to the festivals as written in the Torah.  This calendar is also unique because it is the only calendar that marks the Yarzeit dates of our leaders and contains beautiful pictures from our history on every page. At the end, I placed the updated list of names that should be recited when saying the Yizkor prayers.
Hebrew Calendar Features:
Torah Parashot Readings –This shows you what section of the Torah we study each week and on High Holy Days
Haftorah— This gives you the corresponding reading section from the prophets for each week and High Holy Days
Rosh Kodesh— The date of the New Moon for each month is clearly indicated
Festivals— The dates of all festivals and holidays are provided
Shabbat Times— This calendar shows what time the sabbath begins and ends.
Hebrew Dates–This calendar shows the corresponding date and year
Yarzeit —This calendar marks the anniversary of the deaths of our leaders for special prayers.
Yizkor— The names of departed elders of blessed memory.
The calendar is free. We pray that you use it in good health and choose to support our work.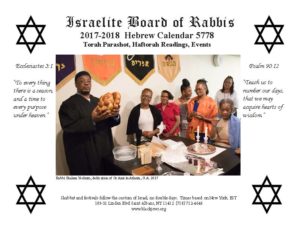 May we be inscribed in the Book of Life for a good year!
שנה טובה ומתוקה
רבי שלמה לוי