Remembering the 2016 Israelite Convention
Rabbi Sholomo Ben Levy
Background
The theme of this historic event was "A New Era of Cooperation."  Israelites had been trying to unite the various sects of our denomination for several generations. What made this occasion unprecedented was the array of communities who sent delegates to New York City from as far away as Israel, Ethiopia, Nigeria, and Uganda. The principle reason for the gathering was the inauguration of Rabbi Capers Shmuel Funnye, Jr to his new office as Chief Rabbi of the International Israelite Board of Rabbis.
Chief Rabbi Funnye was unanimously elected to his position in the Fall of 2015.  He is the third person to hold this office following Rabbi Levi Ben Levi, and the founder, Rabbi W.A.  Matthew. During the installation ceremony, which took place at Beth Shalom B'nai Zaken Ethiopian Hebrew Congregation in Chicago, it was announced that a formal inauguration was planned for the following year at which Israelites from all over the world would be invited to attend. To a large extent, Rabbi Funnye was elevated to this position because of his ability to build bridges and bring people together. The convention was the culmination of years of work in which leaders of our community traveled to Africa to meet with the Lemba of South Africa, the Ibo of Nigeria, the Abayudaya of Nigeria.  Our representative in Ghana, Rabbi Natanya HaLevi, sent a beautiful telegram honoring the chief rabbi and pledging continued cooperation with our Board. Some of the leaders who made those journeys that laid the foundation for the success of this convention include  Rabbi Funnye, Rabbi Baruch Yehudah, Rabbi Yeshurun Israel, Rabbi Eliyahu Yehudah and Rabbi Joshua Salters.
Friday Morning
 As delegates arrived at the Hampton Inn hotel on the morning of August 19th, they were greeted  by a hospitality committee formed by the Israelite Community Vision Counsel (ICVC).  This organization is an auxiliary of the Board whose task is to address the general interest of our people in contrast to the spiritual leadership provided by our rabbis. As such the ICVC is mostly comprised of laypeople, dedicated men and women; many of them are official representatives of Israelite congregations and civic groups. Deborah Reuban is the president of the ICVC. She said, "We wanted to welcome everyone who attended the co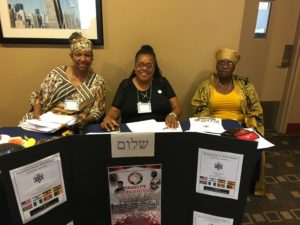 nvention and make them feel like family, the family of Israel." They accomplished their goal. Every registrant received a commemorative  tote bag emblazoned with the convention logo. Inside it contained a program for the weekend, a souvenir fan and water bottle. There was also a beautiful T-shirt and little trinkets that will serve as mementos for years to come.
In the conference room, official delegates met to discuss our common goals and shared objectives. Although we were mutually aware of each other—we had heard of them and they knew of us—this meeting was the first time that many of us had sat across the table from each other. There were no external mediators, moderators, or organizers to govern our agenda. Those delegates from the United States were anxious to receive unfiltered reports concerning the status and treatment of Israelites in other countries. Rabbi Gerhom, the chief rabbi of Uganda, told us about the rapid progress he is making and the pending completion of their new synagogue in September. He also spoke about the opportunities and challenges of his being elected to political office in Uganda.
The Chief Kes Rafael Takoya Hadane of the community of Ethiopian Jews currently living in Israel sent a congratulatory letter saluting Rabbi Funnye on his post and expressing his fervent desire for greater cooperation among Black Jews. Because of his advanced age, the Chief Kes could not make the journey to the United States. His son, Yosef Hadane, is the Chief Rabbi of the Ethiopian community. Prior to our convention, Israeli rabbinic authorities attempted to remove  Rabbi Hadani from his position on the pretext that he should retire.. If fact, the real motive was to silence his advocacy for the rights and autonomy of Ethiopian Jews to govern their community—particularly as it relates to performing marriages.  Our brothers in Ethiopia were admirably represented by Mr. Simcha Kebede and Mr. Shmuel Legesse. We knew that there were nefarious individuals attempting to keep us apart by engaging in Lashon Harrah (evil gossip). Perhaps the biggest crisis facing Ethiopian Jews in Israel today is the challenge of preserving their culture and traditions. While we all want Ethiopians to be integrated into Israeli society, any assimilation process that annihilates their history and unique diversity within Judaism would be a tragedy. When European Jews return to Israel, they were not required to leave their European traditions behind in favor of an older form of Judaism. Similarly, Ethiopian Jews do not want their culture relegated to museums or confined to books about who they once were. The first generation of Ethiopian Jews were reluctant to speak out about these things because they did not want to appear ungrateful to the State of  Israel. The younger generation believes  that as Israeli citizens it is their right to complain and protest  as others Israelis do—often as members of ethnic or religious groups within Judaism.  The great danger that Israel faces—and seems to be oblivious to—is that if these young Israeli's of Ethiopian descent lose their Jewishness then they will simply become Black Israelis. If this is allowed to happen then the dream of a Jewish state that we all hold dear will turn into a mirage—or worse, a nightmare.
Two important documents were sent to the delegates to disseminate within their respective communities: (1) Israelite Peoplehood and (2) Proposal for An Israelite Tzitzit. The first position paper attempts to identify a set of core beliefs that we all share. If agreed upon, it would define what makes the Israelite denomination different from the Orthodox, Conservative, or Reform branches of Judaism. Since we do not fit neatly within any of the existing categories of Judaism, we must define our own. On that basis we can be understood, and, hopefully, accepted. Because we do not all adhere to a single manner of dress, food, music, or liturgy, the development of a common tzitzit would give us a cultural symbol that we all have in common. It would literally tie us together as we continue the process of defining the rest of our eclectic culture. We invite the Israelite people at large to engage in this discussion over the course of the year so that these matters can be voted on at our next convention in 2017.
Erev Shabbat
 The traditional service to welcome the start of the sabbath took place Friday evening at Beth Shalom Congregation in Brooklyn, which is led by Rabbi Yeshurun Israel. This beautiful synagogue was built as a manson c. 1880 for the German industrialist William Auer. In 1929 the building was purchased by Young Israel, an organization committed to revitalizing Orthodox Judaism. The building was greatly expanded to include a gymnasium /social hall on the first floor while the second floor contained a large sanctuary with a high ornate bimah. For the next 40 years the synagogue was known as  Young Israel of Williamsburg. In 1968, Chief Rabbi Levi B. Levy moved Beth Shalom, a congregation he founded in his living room, into this edifice. Chief Rabbi W.A. Matthew came to the dedication and renaming of the building. Now, almost 50 years later, this historic synagogue was hosting the first service to inaugurate its  new leader, Chief Rabbi Capers Funnye.
Over 200 jubilant  worshippers gathered that evening. The prayer service was conducted in Hebrew and English  by Rabbi Yehudah using an Orthodox siddur. These rabbis have been pioneering innovations in the traditional liturgy that incorporate more Mizrahi  and Sephardic customs. This was evident in some of the melodies and accents. A highlight of the service occurred when we reached the Ashet Kayel (Woman of Valor, Proverbs 31:10). At that point, Rabbi Funnye took over and asked all the married men to stand next to their wives who were seated on the right side of the sanctuary as we recited the blessing that praises women and honors wives for their sacrifices.
The sermon that evening was given by Rabbi Sholomo B. Levy, President of the Israelite Board of Rabbis and leader of Beth Elohim Hebrew Congregation in Queens, New York.  Before he delved into his message, Rabbi Levy asked those in attendance to pause for a moment to appreciate the significance of what was happening. "This is the moment that we have prayed for" he said. "For generations our people dreamed of a day when Black Jews from all over the world would come together as one." He announced  "The day we have been waiting for has finally arrived. This is it.   Let us rejoice and give thanks to God."  The title of his remarks was "Upon the Wings of Eagles." It was inspired from a verse in scripture (Deut 32:11), where God describes protecting and carrying the Israelites like an eagle  looking over her young. Building on this metaphor, Rabbi Levy took the congregation on a  flight through history that started in Africa and with Ethiopia—the first country mentioned in the Bible–and continued to Egypt, where the "children of Israel" consisting of 70 souls grew into a nation of people over the next 430 years of their enslavement.. "God carried us on his wings from Egypt to Israel." Since Egypt is in Africa, all of the Israelites: Moses, Aaron, Miriam, Joshua, and the entire mixed multitude—where African Jews by birth. These Israelites had no European ancestry. Their descendants would not live in Europe for over 1,000 years. We began in Africa and we are proud of that fact. Our European brothers and sisters share this genealogy but they seemed ashamed to acknowledge their African origins. Perhaps they are afraid that the Blackness of the Israelites would caste doubt on their current Whiteness? If so, I say it is better to lose your Whiteness then to deny your origins and sell your birthright. Anti-Semites have never accepted you as being White and you no longer need their acceptance. Jews should know that they don't need White privilege to succeed. The God of Israel carries us upon His wings."
Shabbat Service / Inauguration
 The inauguration ceremony took place at B'nai Adath Kol Beth Yisrael. It is one of the oldest and largest synagogues in the Israelite community. Founded in 1954 by Rabbi Yirmeyahu Yisrael, a student of Chief Rabbi Mathew, th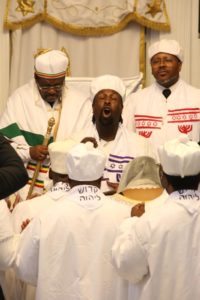 e congregation moved several times from its first location in Harlem before arriving at the corner of Patchen and Greene. Like many of our synagogues, this building has a long and storied history. At some point in the nineteenth century, Ashkenazi Jews acquired the property and built  a synagogue that was then called B'nai Jacob Joseph.  As the population of this section of Brooklyn became more African American, the exodus of Jews to other parts of the city increased. Most of those abandoned synagogues became churches, but a few fell into the possession of Black Jews who kept the perpetual lights burning. Such was the case with B'nai Adath when it acquired the once grand tabernacle in 1967. During the 1970s the Israelite Board of Rabbis and the Israelite Rabbinical Academy would be created at meetings within its walls.
The members of B'nai Adath worked hard to restore the building to a semblance of its former glory. Air conditioning had been installed to mitigate the heat that would be generated by over 400 Israelite worshippers on a hot day in August. A large flat screen T.V. was patched into the dining hall to accommodate the overflow of guests who could not fit into the sanctuary. For most of this building's history, women were consigned to sit in the balconies overlooking the sanctuary. On this day (and in recent years) women occupied the entire right half of the mezzanine. And, as a unprecedented civic courtesy, the New York City police department closed the streets and stationed uniformed officers at both synagogues for our protection.
The prayers were chanted by Chazzan Odeya Israel and Gabbie Azriel. Their voices combined in such a way as to open the very gates of heaven to our prayers. Although they were reciting the traditional liturgy, there was an ineffable quality to their davenning that stirs the soul of every listener and directs their spirits upward. Even if one did not understand Hebrew, the cadence of their praying translated the words into a universal language that you understood with your heart rather than your ears. It was moving and quintessentially Israelite. And, even though the assembly at that service represented various traditions of the Israelite diaspora, when we began to sing it was as if our shared spiritual ancestry brought us into harmony.  It was announced that the desired attire for the day was to be white with black accessories. Thus there was a regal uniformity that united us body and soul.
After the Torah was read the scrolls were dressed, the silver pointer, breast plate, and most importantly, the sparkling  crown was once again affixed to the top of Torah. The African drummers began to beat out the rhythm to the Old Testament hymn  "Marching to Zion"[1] and a  procession began that encircled the sanctuary. As we marched, people made their way to the end of each pew where they might reach out their hands to touch the Torah as it went by. Young and old delighted in the opportunity to get closer to that ancient document that is the bedrock of our faith.  Once the Torahs were returned to the ark, the rabbis retreated to a separate chamber where they changed into special vestments that were custom made for the inauguration. While this transition was taking place the choirs never stopped singing.
When the doors to the chamber at the rear of the synagogue were opened, Cantor Nathaniel Davis began a second procession more solemn  than the first. He chanted the words of the Shema, a song that declared the oneness of God, in a slow melodious tone.  He was followed by a counsel of elders comprised of men and women who are respected for their wisdom and integrity. Next in order where the rabbis and official delegates from African Israelite communities. Finally, Chief Rabbi Funnye was escorted to the bimah by an honor guard.
As Chief Rabbi Funnye stood on the bimah he was given the tokens of his new office consisting of a mitre, robe, and a hand-carved yad (pointer for reading the Torah) that was the size of a small scepter. The rabbis also presented him with their congregational yads as a pledge of loyalty. The chief rabbi's  head was anointed with oil. The oath of office was administered by Rabbi Sholomo Levy and Rabbi Baruch Yehudah who is the spiritual leader of B'nai Adath. Rabbi Funnye was encircled by his colleagues. As they laid their hands upon him  Rabbi Eliyhau Yehudah prayed a powerful prayer and bestowed a mighty blessing upon their new leader.
Chief Rabbi Funnye was visibly humbled by the honored bestowed upon him with such acclamation. When he arose to deliver his inaugural address he thanked everyone for their thrust, support, and assistance. He then proceeded to lay out a bold vision for our community. He called for the inclusion of female rabbis on our board and the admission of women in the Rabbinical Academy. Furthermore, he stressed the need for us to contribute more generously to the Israelite Board of Rabbis so that we will have the means to do the hard work that the people expect of us. He said, "You have given me a tremendous responsibility. I accept it, but I can't do it on my own and without resources. We desperately need your help and we appreciate your sacrifice. Indeed, in this modern time, your money is your sacrifice and offering to God." Finally, the Chief Rabbi asked us to be vigilant against those with anti-Semitic motives who unjustly criticize Israel or attempt to subvert legitimate Black Lives Matter campaigns. We must weed out those infiltrators who would turn peaceful protests into violent riots and those who are more interested in race baiting than problem-solving.
Banquet
The formal banquet was held at Rose Castle, a beautiful kosher hall in Brooklyn. The guest arrived in their finest attire ranging from spectacular African garments to designer gowns. The rabbis were attired in matching white dinner jackets, black pants, and bowties.  The master of ceremony was Dahved Levy, an Israelite radio celebrity who hosts his own program on WBLS, New York's largest R&B station. He would later invite the rabbis to be guests on his show. (Link to radio broadcast). First Lady, Michelle Obama, published a letter in the souvenir  journal congratulating her cousin for "bringing people together from across the globe and advancing Jewish values." Among the distinguished dignitaries in attendance were Rabbi Gideon Shloush and Rabbi Joseph Potasnick, the president and executive vice president of the New York Board of Rabbis. Their presence was truly historic and represents a giant step forward in race relations between Black and White Jews. In part, the Israelite Board of Rabbis was formed because the New York Board of Rabbis refused to accept Chief Rabbi W.A. Matthew as a member of their organization 60 years earlier. As a result, Black rabbis formed their own board. In April of 2016, Rabbi Potasnick, who enjoyed cordial relations with our community for many years and who knew Rabbi Funnye from national meetings and AIPAC gatherings, convened a meeting with Black rabbis at his offices. Since that time we have been seeking out common areas of concern and cooperation. Rabbi Levy attended the installation ceremony for Rabbi Shloush in June when he assumed leadership of the country's largest body of rabbis representing every sect of Judaism. In his remarks at this gathering, Rabbi Shloush wished Rabbi Funnye a sincere "Mazal Tov" and expressed a desire to work closely with him in the future.
At the end of the convention, as everyone departed there was the distinct feeling that while we were leaving this event we were, in fact, just entering a new era in the history of our community. The success of the gathering proved to us that we could come together despite our differences. Never have we seen such love, unity, and acceptance.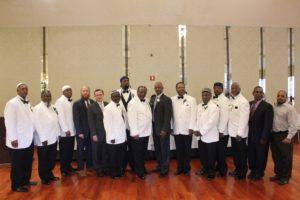 [1] The Old Testament hymn is based on Jeremiah 31:6.