The annual convention of the International Israelite Board of Rabbis was held in Atlanta, Georgia, from August 4-6. By all accounts, it was a tremendous success. The convention coincided with the dedication of Congregation Or Ami, which is led by Rabbi Shalem K. Yeshurun. The founding of this new synagogue in the South represents a significant expansion of our ability to serve Black populations that are interested in discovering their Israelite identity and learning more about living according to Torah. Last year, during the convention in New York City, which saw the inauguration of Chief Rabbi Capers Funnye, Rabbi Yeshurun said, "We are trying to build an Israelite community in Atlanta. The people there have a thirst for knowledge and are passionately seeking the truth. Let's hold our convention in Atlanta and begin expanding beyond the northern cities where our community began."
For several years after moving to Atlanta, Rabbi Yeshurun and his extended family visited Ashkenazi synagogues in the area where they were greeted warmly. Yet, they wanted to worship in a familiar environment that honored some of the Israelite liturgy and musical traditions.  Prior to Passover, they found an ideal place in Suite C-16 which is located at  2459 Roosevelt Highway in College Park, Georgia.  The women of Or Ami created handmade banners of the twelve tribes of Israel that beautifully adorn their sanctuary. Bathshevah Yeshurun, the first lady of the congregation said, "Passover was like Hanukkah for us; Or Ami was a gift from God." They immediately affixed a mezuzah to the entrance. In an extraordinary demonstration of the principle "All Jews are responsible for each other" (כל ישראל ערבים זה בזה), Rabbi Joshua Heller, the senior rabbi of Congregation B'nai Torah, lent Or Ami a Sefer Torah for their new ark.  Rabbi Heller also attended the banquet at the Hyatt Hotel on Sunday. Rabbi Heller did not have any contact with the Israelite community when he was a rabbinical student at Jewish Theological Seminary in New York, but he represents the ninth generation of rabbis in his family. He said that leading a Conservative synagogue in the South has broadened his perspective on Judaism. Rabbi Yeshurun gave him a heartfelt expression of appreciation for "treating us like family."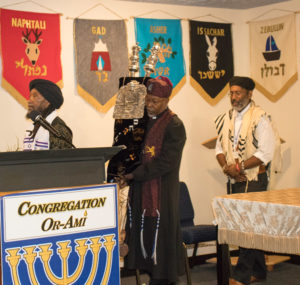 Rabbi Sholomo Levy arrived in Atlanta a few days early to spend time with his Yale University roommate, Dr. Michael Harris, who is a professor at Emory University. He took Rabbi Levy for a tour of the Dr. Martin Luther King, Jr. Center, the childhood home where Dr. King was raised, and the Ebenezer Baptist Church, where Dr. King preached many of his famous sermons. For a Black rabbi, visiting these sites was reminiscent of visiting sacred shrines in Israel. While visiting Morehouse College, Dr. Harris surprised Rabbi Levy with anintroduction to Dr. Lawrence Carter, Professor of Religion and College Curator at Morehouse College. Dr. Carter was intrigued by the Israelite movement and invited Rabbi Levy to participate in the "Rabin-King Initiative," a program created at Morehouse College in 2009 to honor the legacies of Israeli Prime Minister Yitzhak Rabin and Dr. Martin Luther King—both winners of the Nobel Peace Prize who were assassinated while trying to achieve peace.
Chief Rabbi Capers Funnye arrived at the Israelite Convention to great excitement.  He had been crisscrossing the country all summer from New York in June where he celebrated the 80th Birthday of Rabbinet Deborah Levy at Beth Shalom, to Congregation Temple Beth-El in Philadelphia in July, where he was the keynote speaker commemorating the seventeenth anniversary of Rabbi Debra Bowen as the leader of that synagogue. The Chief Rabbi met privately with the Israelite Board of Rabbis to stress the urgency of helping our community in Uganda. He gave us an update on the famine and its effects on the Abayudaya. We were relieved to know that a GoFundMe page has been created to send immediate assistance.
The sabbath morning service began with the formal dedication of Congregation Or Ami. All the parishioners poured into the parking lot and lined up behind the rabbis who recited the requisite prayers. The procession marched solemnly around the synagogue anointing the four corners of the sanctuary before returning the Torah to the ark. We sang the "Ma Tovu" which says in part "How goodly are your tents O Jacob and your dwelling places O Israel. Through Thy abundant mercy, O God, I enter Thy house." Rabbi Yeshurun conducted the prayer service in Hebrew and English, chanting familiar prayers from the siddur and singing songs of praise that are original and beloved by the Israelite community. Cohen Shetmeyah Lewi led a delegation from his congregation, Hashabbah Yisrael, in North Carolina. The sermon delivered by Chief Rabbi Funnye brought tears to the eyes of one Israelite who confessed that he previously harbored doubts about our unity. Cohen Lewi gave an inspiring message to the members of Or Ami and bestowed a blessing upon them for success and happiness. His cantor, Ya'aqov Walker, was the Baal Koreh and read the Torah with a melodious chant. Professor Rudolph Windsor, author of  From Babylon to Timbuktu,  The Valley of the Dry Bones, and other important books, was honored with an aliyah at the Torah. Professor Windsor lives in Atlanta and was delighted that we now have a synagogue in his area. Later that evening those who attended the convention enjoyed a festive party near the pool.
Rabbi Baruch Yehudah, the spiritual leader of B'nai Adath congregation in Brooklyn, New York, conducted a seminar Sunday morning on the meaning and operation of an Israelite Bet Din in one of the conference rooms of the Hyatt Hotel. This information session was intended to educate our community as to the process by which our Halakha (rules) and Minhagim (traditions) will be decided. Rabbi Yehudah explained the Torah's directives that command us to establish our own courts. He made clear that although the Board of Rabbis creates the courts, the actual judges are selected from among the distinguished teachers and elders of our community. In this regard, Prince Zurishaddai voiced his support for what we are trying to accomplish and agreed to serve on the Bet Din that will consider the admission of female rabbis onto our Board. When one woman asked, "Will women  be allowed to serve on this Bet Din?" Rabbi Yehudah responded that "Women have always served as judges in Israelites courts from the time of Ruth and women of valor will most certainly serve on our Bet Din."
Before leaving Atlanta, Chief Rabbi Funnye and Rabbi Levy were taken to meet Rabbi Mark Hillel Kunis at his synagogue, Congregation Shaarei Shamayim. Rabbi Kunis welcomed them in the spirit of Abraham. He gave them a tour of their new synagogue and informed them that Jews of Color represent more than ten percent of his Traditional congregation. As a graduate of Yeshivah University in New York City, he too had no contact with Israelites until recently. He talked with Chief Rabbi Funnye about the Nishama (Soul) of a Jew. When Chief Rabbi Funnye told him that many White Jews assume that we sound like Christens because we davin (pray) with such intensity, Rabbi Kunis said "Jewish prayers are intended to be said with feeling and passion." Rabbi Kunis then presented Chief Rabbi Funnye and Rabbi Levy with inscribed copies of his new book Dancing With God: How to Connect with God Every Time You Pray. Rabbi Kunis said that he welcomed Rabbi Yeshurun and Congregation Or Ami to the diversity of Atlanta's Jewish community.
The Israelite convention and dedication of Congregation Or Ami were successful events. The Israelite Board of Rabbis is considering where to hold our convention next year. However, the grand gathering will take place in New York City in August 2019 as our community commemorates our Sentential Celebration. This will be an international gathering of Israelites from all over the world. If you missed this convention in Atlanta, start making plans for 2019.  Please contact us to find out how you, your congregation or community can be involved.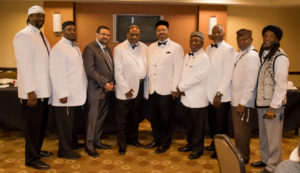 Video of the Israelite Convention 2017